Wrestling between whether you should move to Austin vs Houston? As two major Texas cities with great perks and amenities, this decision is certainly a challenging one. Situated roughly 162 miles apart from one another, making the right decision is extremely important to ensure that you end up in the best location for your individual needs and preferences.
Serving as the state capital, Austin is a bustling city located near the center of the state. It has been nicknamed the "Live Music Capital of the World®" due to having the most live music venues per capita than any other city. Austin is also regarded as the "Bat City" because of the over 500,000 bats that live under the Congress Avenue bridge. Tourists and locals alike flock to the bridge nightly to see the impressive sight of these amazing creatures.
Traveling southeast, Houston also has a myriad of unique characteristics that residents have come to enjoy. It holds the distinction of being "the world capital of space exploration," as it has served as the site of many world-famous space-related events. In 1961, the Johnson Space Center was established in Houston. On a highly unique note, Houston has also been named as the "world capital of air conditioning."
Another perk of living in Houston? With a location close to the Texas coastline, residents can visit the scenic beaches of Galveston on the regular.
How should you make the decision between living in Austin vs Houston? Is Austin or Houston better? Compare and contrast the pros and cons of moving to both cities to help make your final decision. Get a firsthand look at what it's really like to live in both Austin and Houston.
Pros & Cons of Living in Austin vs Houston
Living in Austin Pros
Acclaimed for its world-class live music scene, gorgeous outdoor spaces, top attractions, and for its lovely neighborhoods, Austin is a magnificent place to reside. With warm temperatures year-round, it is easy to enjoy all of these perks no matter the season. This makes Austin a great place for people who like to fill up their free time with fun things to do.
Around town, there's so much for residents and visitors to do, see, and experience. Some of the city's must-see attractions include the Greetings From Austin Mural, Museum of the Weird, Thinkery (an interactive children's museum), the Blanton Museum of Art, and the Umlauf Sculpture Garden & Museum. This list is a mere sampling of the numerous museums, gardens, murals, and art galleries that can be visited throughout Austin.
Away from downtown, locals are treated to quiet residential neighborhoods, scenic parks with every amenity imaginable, and close by shops and restaurants.
Austin also has a reputation for its top-rated public schools. Encompassed by the Austin Independent School District, many of the area's schools have earned perfect 10/10 scores from GreatSchools.org, as well as a number of other top accolades. Some of Austin's best schools include Elsa England Elementary School, Forest Trail Elementary School, and Hill Country Middle School.
Another perk of living in Austin is the city's reasonable cost of living. While most major cities have unreasonably high cost of living scores, Austin's Cost of Living Index (129.4) is only slightly higher than the U.S. average. In fact, in many categories (such as utilities and groceries), the Cost of Living Index is lower than the national average.
Living in Austin Cons
Two of the main downsides to living in Austin are its extremely hot and humid summers and its dense traffic. Adding onto the problem of heavy traffic is the city's lack of public transportation. To get around the city fully, you absolutely need to own a car, as there are limited places to take the bus, bike, or walk.
Living in Houston Pros
Situated in the far southeastern part of Texas, Houston is known for its excellent attractions, top-rated amenities, outstanding schools, and quaint neighborhoods. Across the city center, residents enjoy the bustling activity in the Theater District, the Houston Skyline District, and the Central Business District. Each of these neighborhoods feature major employers, performing arts venues, and a vibrant food and bev scene.
Hands down, one of the best parts of living in Houston is having access to its plentiful green spaces. Outdoor enthusiasts are especially pleased to reside near top outdoor spaces such as Donovan Park, Midtown Park (which includes a dog park), Memorial Park, Wildcat Golf Club, Shady Lane Park, and Discovery Green.
Want to explore the city's many attractions in your leisure time? Houston also features top entertainment spots for people of all ages. Make it a priority to visit the Houston Zoo, the Space Center Houston, and Minute Maid Park, which is home of the Houston Astros.
Much like Austin, Houston has phenomenal schools across all grade levels. In fact, a whopping 11 local public schools have been awarded perfect 10/10 scores from GreatSchools.org.
Living in Houston Cons
Because the cities are so close in proximity, Austin and Houston share their hot, muggy climates. For many, consistently high temperatures (often exceeding 100°F in the summertime) and high dew points are a definite con of living in the city. Also, being miles from the Gulf of Mexico, Houston is at-risk for hurricanes and major flooding.
Another downside to living in Houston is that the city consistently ranks low for the overall health of its residents.
Comparisons of Austin vs Houston
Population and Demographics
The population of Houston as compared with Austin is significantly higher. Houston is a much larger city in terms of population. The median age of residents in Austin versus Houston is very similar, with Austin being slightly higher. Austin is wealthier with a higher median household income and also is more educated.
Austin Population (as of 2020): 964,000
Houston Population (as of 2020): 2,313,238
Austin Population Density: 3,013.1 people per square mile
Houston Population Density: 3,611.9 people per square mile
Austin Median Age: 34.4
Houston Median Age: 33.3
Austin Male vs Female: Male – 51%, Female – 49%
Houston  Male vs Female: Male – 50%, Female – 50%
Austin Median Household Income: $79,542
Houston Median Household Income: $53,600
Austin Educational Attainment: 92.8% high school diploma or higher, 59.9% bachelor's degree or higher
Houston Educational Attainment: 79.7% high school diploma or higher, 34.3% bachelor's degree or higher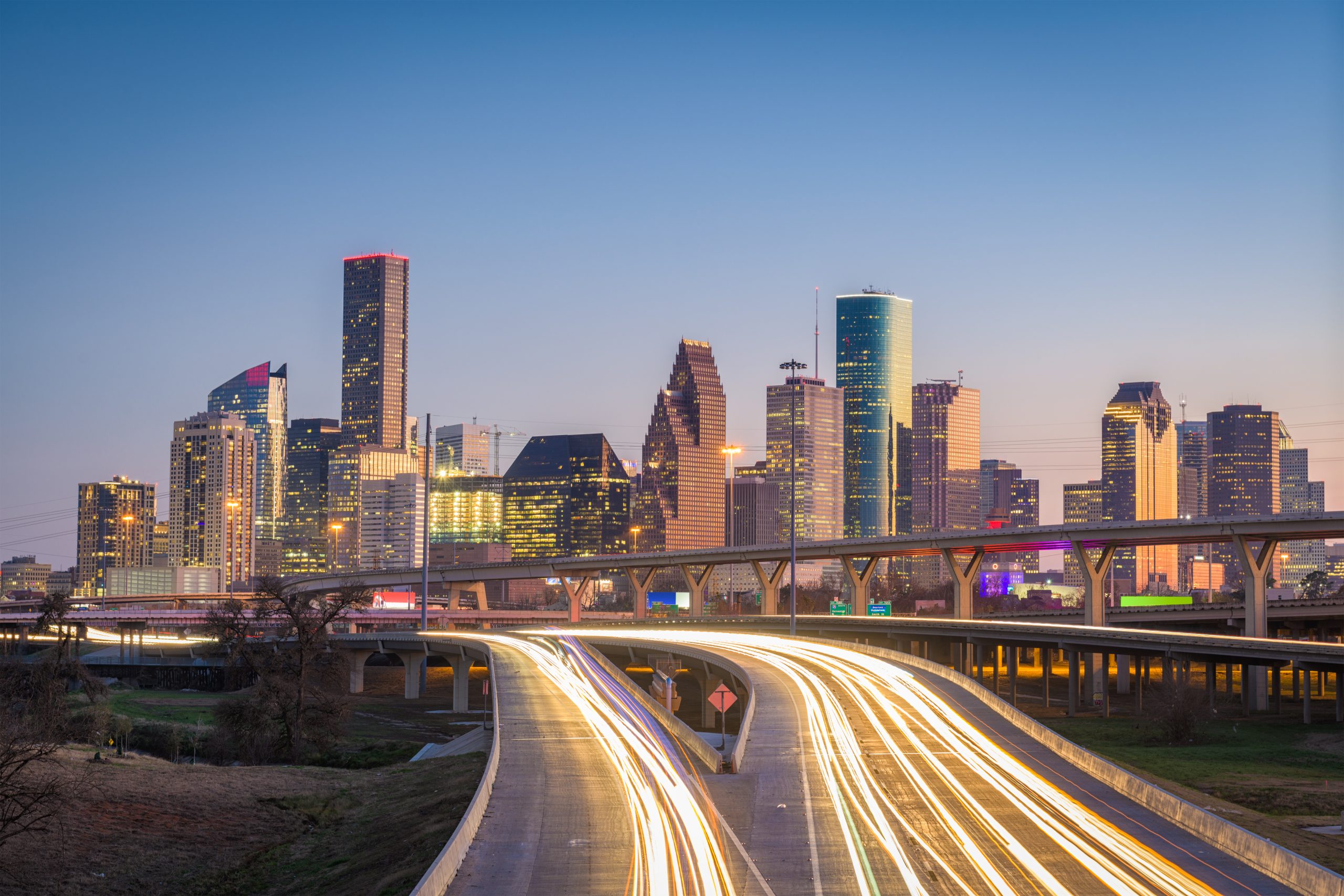 The Cost of Living in Austin vs Houston
The overall cost of living in Austin as opposed to Houston is significantly higher (by over 35%). According to the Economic Policy Institute, a family of four needs to make $77,005 in Austin, and $73,970 in Houston.  Houston benefits from a much lower cost of living than Austin.
Austin Cost of Living Index: 129.4
Houston Cost of Living Index: 94.1
Austin Average Monthly Rent: $1,826
Houston Average Monthly Rent: $1,304
Austin Median Home Price: $540,000
Houston Median Home Price: $320,000
Crime Rate
While comparing stats on living in Austin vs. Houston, assessing city crime rates is crucial. In terms of overall crime, violent crime, and property crime, Austin is the safer city.
Austin Total Crime Rate (per 100K): 4,098
Houston Total Crime Rate (per 100K): 5,392
Austin Violent Crime Rate (per 100K): 467
Houston Violent Crime Rate (per 100K): 1,072
Austin Property Crime Rate (per 100K): 3,631
Houston Property Crime Rate (per 100K): 4,319
Climate/Weather
Austin and Houston are both known for their extreme heat and humidity. They are nearly identical in climate and average temperatures due to their close proximity to one another. However, Houston faces well over 14 inches more rain per year.
Austin Climate Type: Humid subtropical climate
Houston Climate Type: Humid subtropical climate
Austin Average Rainfall: 35.5 inches
Houston Average Rainfall: 49.77 inches
Austin Average Daily High Temperature Range (Yearly): 62°F – 96°F
Houston Average Daily High Temperature Range (Yearly): 63°F – 95°F
Austin Average Daily Low Temperature Range (Yearly): 43°F – 75°F
Houston Average Daily Low Temperature Range (Yearly): 47°F – 77°F
Public Transportation
For individuals who do not own a vehicle, exploring the ins and outs of Austin vs. Houston public transportation is crucial. Neither city is highly walkable, but each has a decent selection of public transit options.
Austin Public Transportation System: CapMetro
Houston Public Transportation System: METRO Public Transit
Austin Types of Public Transportation: Bus, walking, biking, taxi
Houston Types of Public Transportation: Bus, Metrorail, walking, biking, taxi
Economy
Austin in comparison with Houston has the best job opportunities overall, as well as low unemployment and a higher per capita income.
Austin Per Capita Income: $53,937
Houston Per Capita Income: $33,626
Austin Unemployment Rate: 2.7%
Houston Unemployment Rate: 4.1%
Austin Top Employers: Dell Inc., H.E.B., Seton Healthcare Network, City of Austin, Apple, Austin Independent School District
Houston Top Employers: Walmart, Memorial Hermann Health System, H-E-B, Houston Methodist, McDonald's Corp, and United Airlines
Popular Major League Sports Teams
Sports fans prefer Houston to Austin, since Austin has only one professional sports team.
Austin: Austin FC
Houston: Houston Astros (MLB), Houston Rockets (NBA)
Austin vs Houston Distance
How far is Austin from Houston? The total distance is 165 miles. By vehicle, this trip is only about two and a half hours. Although not ultra close in distance, it is easy to travel between these cities.
Austin vs Houston: Where Are You Moving?
Unicorn Moving is here to serve as your top resource for achieving a laid-back, hassle-free move. Once you've compared the benefits and disadvantages of Austin vs Houston, make plans to reserve your relocation services with our team. Voted the best Austin movers for the last six out of eight years, we know what it takes to exceed your every expectation. Contact us today to get started, and to request your free quote!