Most well-known as being the state capital of Texas, and for being the "Live Music Capital of the World," Austin is a bustling and thriving metro area. With a steadily growing population of 965,872, the area is expanding year-after-year. Some of the most desirable aspects of living in Austin include its outdoor activities, exceptional restaurants, arts and culture scene, nightlife, shopping, and over 300 days of sunshine annually. On top of these outstanding qualities, Austin is also lauded for its highly-rated public schools at every grade level.
Although living in the city comes with its advantages, many individuals, couples and families choose to reside in the suburbs. Quiet, peaceful, and lined with spacious homes, the suburbs provide unique characteristics that a city environment does not have. Different from a neighborhood, a suburb is typically a town or a city that is on the outskirts of a metropolitan area.
If you are thinking about moving to an Austin suburb, you are in luck. The city has a long list of safe, tranquil, and family-friendly places to live. Explore some of the best suburbs in Austin.
Round Rock, TX – Best Austin Suburb for Families
Upscale, peaceful, and one of the safest suburbs in Austin, Round Rock is a delightful place to reside. Offering top economic opportunities, fun attractions, and highly-rated schools, there's so much to love about this vibrant suburb.
Have the day off? Take the kids to one of the family-friendly attractions in Round Rock. Popular places to visit include Rock'N'River Water Park, Inner Space Cavern, and the Play For All Abilities Park. Have a day of shopping in mind? Check out the wide array of stores found at the Round Rock Premium Outlets. Once you've worked up an appetite, dine at top Round Rock restaurants, including Hopdoddy Burger Bar, Greenhouse Craft Food, and Salt Lick (an acclaimed Texas-style BBQ restaurant).
Fun fact: Round Rock is known as the "Sports Capital of Texas."
Cedar Park, TX – One Of The Safest Austin Suburbs
Situated directly west of Round Rock, Cedar Park is one of the safest suburbs in Austin. Boasting an ultra low crime rate (well below national and state averages), living in this town brings with it added peace of mind.
Cedar Park is a rapidly growing area. It is located 20 miles northwest of Austin, and delivers many of its own amenities and conveniences. This includes great schools, places to shop, top-tier restaurants. Heading out? Make sure to visit hotspots such as the Splash Shack, Cedar Bark Park dog park, and the Austin Steam Train Association Museum.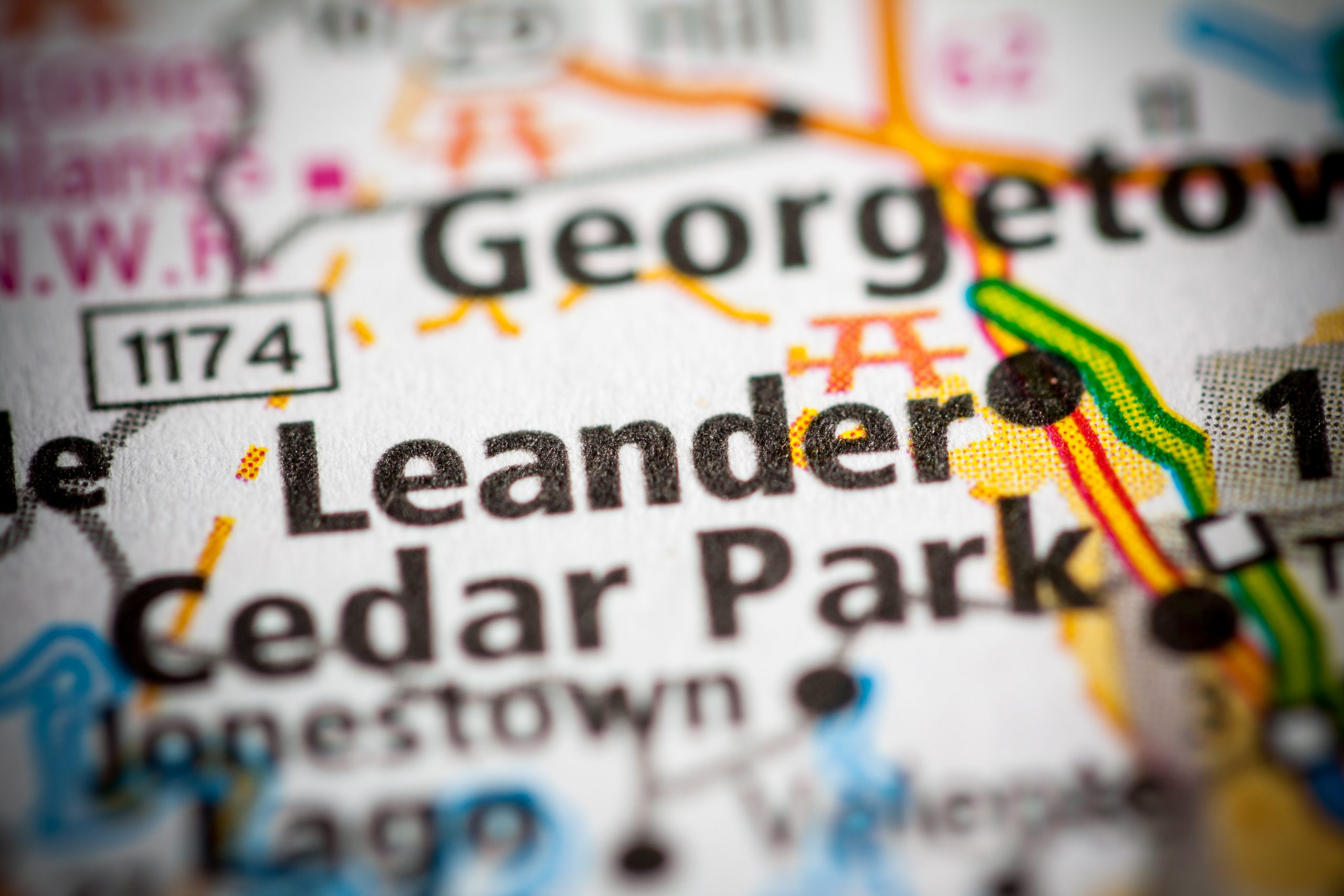 Leander, TX – Safe And Affordable Austin Suburb
Boasting a solid reputation for being affordable, safe, and serene, Leander is a popular Austin suburb. It is located in both Williamson County and Travis County, and shares its southern border with Cedar Park.
Residents of this family-friendly Austin suburb enjoy stunning single-family homes, top-rated public schools, and relaxing places to get out and spend time in nature. Among residents, favorite places to visit include Robin Bledsoe Park, Benbrook Ranch Park, and the Crystal Falls Golf Club.
Bee Cave, TX – Rural-Like Feel With Ample Privacy And Amenities
As one of Austin's high-end suburbs, Bee Cave is a delightful place to call home. Situated 17 miles northwest of Austin, commuting to and from the city is effortless. Residential areas are supremely peaceful, with select spots having a rural, bucolic vibe. On the eastern side of town, there is an abundance of restaurants and shopping complexes. Here, locals can check off everything on their to-do list at places such as the Hill Country Galleria shopping mall, and the Shops at the Galleria.
In addition to these qualities, Bee Cave is home to several stunning outdoor recreation spaces. Including a selection of dog-friendly and family-friendly activities, locals enjoy spending time at the City Of Bee Cave Central Park, Falconhead Golf Club, and Falconhead West Primitive Park.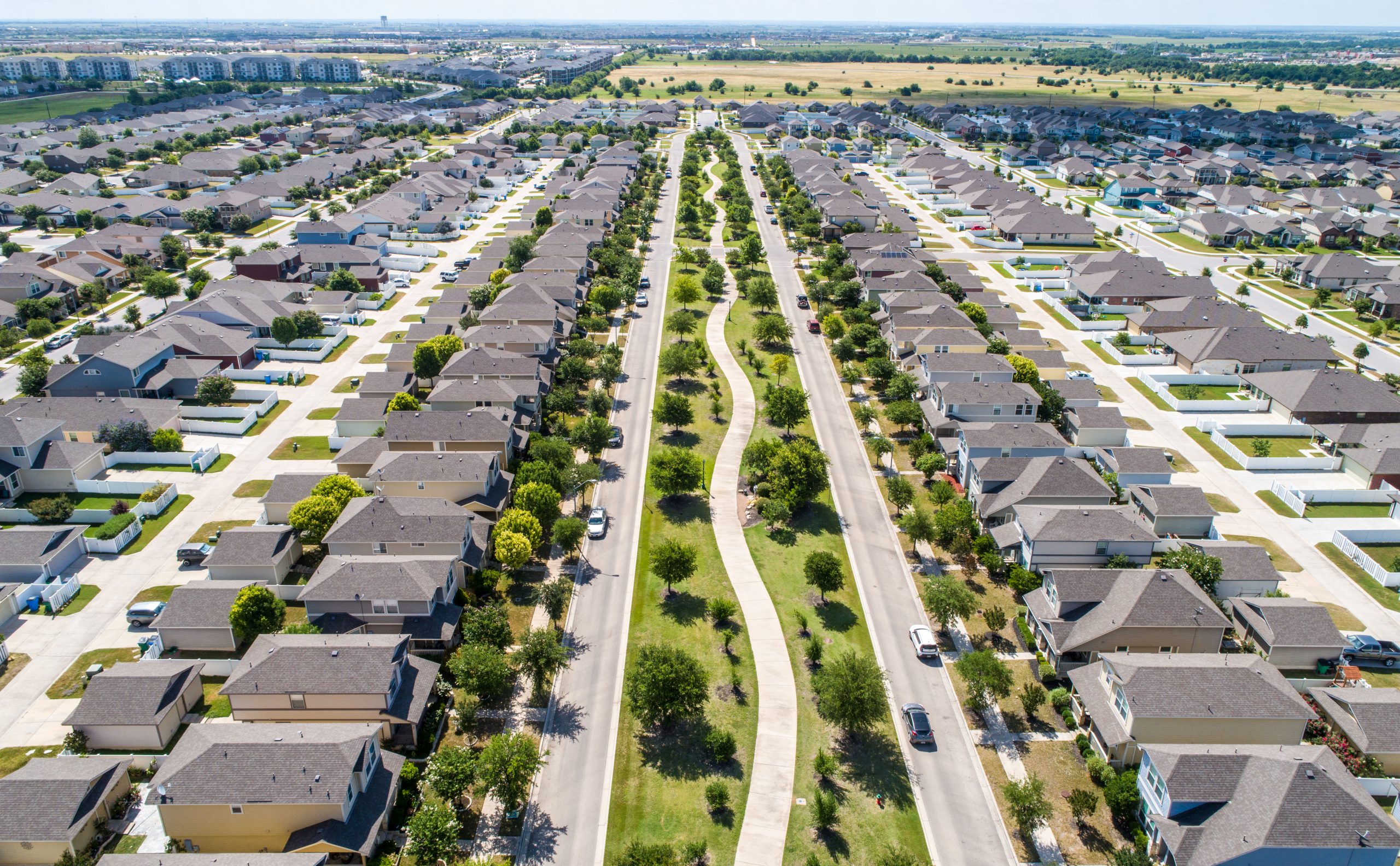 Pflugerville, TX – One Of The Most Popular Austin Suburbs
Tree-lined and filled with sprawling homes, Pflugerville is an idyllic Austin suburb. Thanks to its phenomenal public schools, family-friendly environment, and fun outdoor spaces and attractions, it is easy to see why so many individuals love this community.
New to Pflugerville? All incoming locals should be sure to visit top area hotspots, including Typhoon Texas Waterpark, Austin's Amusement Center, and Pfluger Park. Searching for top-rated schools in this Austin suburb? Some of the best schools in Pflugerville include Rowe Lane Elementary School, Murchison Elementary School, and Kelly Lane Middle School.
West Lake Hills, TX – Wealthy Austin Suburb Community Situated On The Colorado River
Known for its high household incomes, stately homes, and ultra-private locale, West Lake Hills is a dream for those desiring secluded living. Long driveways and lush greenery obscure views of homes in this desirable Austin suburb.
This community is made up of many exclusive neighborhoods, including Stonehedge Estates, Yaupon Valley, and Wildcat Hollow. Many have a rural feel, all-natural look and feel. Despite being mostly residential, the western side of town includes various shops and restaurants.
Lakeway, TX – Safe And Exclusive Austin Suburb
Also located along the Colorado River, Lakeway is a prestigious Austin suburb. Designed with leisure in mind, individuals who enjoy outdoor recreation — including boating, golfing, tennis, and related activities — will delight in Lakewood's offerings.
What are some of the best places in Lakeway? Schedule your morning or afternoon at The Hills Country Club, Hamilton Greenbelt, Sailmaster Pickleball Courts, Roughollow Lakeside Trailhead, and the Nautical Boat Club.
The Hills, TX – Private And Exclusive Austin Suburb Suited To Golf Enthusiasts
Home to luxury real estate and The Hills Country Club, private living is at its best in The Hills. Located immediately south of Lakeway, this fully residential village is encompassed by Travis County. The entire neighborhood is centered around its prestigious country club, which offers swimming, tennis, a fitness center, dining, and world-class golfing. Due to its size (population), it is recognized as the largest village in Texas.
Brushy Creek, TX – Serene Texas Suburb With Top Outdoor Amenities
Located in Williamson County, Brushy Creek is a tranquil Austin suburb. In addition to its lovely neighborhoods, this census-designated place is known for its ample places to get out and explore nature. One of the most notable is the 69 mile stream that runs through town — which also shares its namesake. Around town, locals have the option to bask in the serenity found at places such as Olson Meadows Park, Pepper Rock Park, Brightwater Park, Cat Hollow Park, Cheatham Park, and Shirley McDonald Park. Each park offers a myriad of ways that residents can enjoy the outdoors. The list includes disc golf, fishing, playgrounds, sports courts, hiking trails, and more.
In addition to its picturesque spots to enjoy nature, Brushy Creek also features other desirable amenities. Locals have access to multiple highly-rated schools, shopping, restaurants, a medical center, and the Brushy Creek Community Center. Brushy Creek is located between other coveted Austin suburbs, including Round Rock and Cedar Park.
Map of Austin Suburbs
Ready to relocate to one of Austin's top suburban communities? Contact our experienced and fully trained Austin movers. After being in business for nearly 30 years, we have a firm understanding of what it takes to provide outstanding service. Our award-winning team boasts a one percent claims rate, and an average of nine years of experience per staff member. Contact us today to request your custom moving quote.